Offering 100% sustainable seafood since 2008
We are the only grocery store in the US to offer 100% sustainable seafood, right down to the canned tuna!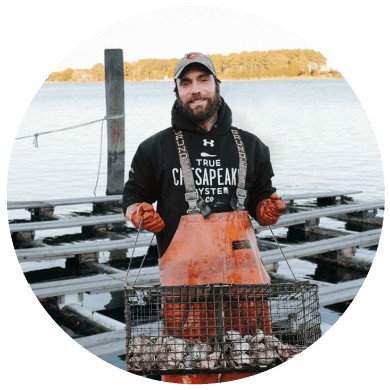 The MOST Sustainable Options on the Market
We ONLY offer items recommended or approved by the Monterey Bay Seafood Watch Program.
This means products sourced from fisheries or aquaculture operations that are rated a Green Best Choice, Yellow Good Alternative, or that are Eco-Certified are allowed on our shelves.
Farm-Raised: we pay close attention to stocking density and feed conversion ratio.
Wild Caught: the health of the fish stock, where and how the seafood is caught is taken into consideration.

Monterey Bay Aquarium Seafood Watch
This program helps consumers and businesses make choices to protect and restore our oceans and fish populations.
For us, the term sustainable seafood encompasses a lot. Including…
protecting wild species
restoring coastal habitats
ensuring safe working conditions for workers
supporting thriving businesses

The Wide Net Project
Every time you buy Wide Net Project Catfish at MOM's, we donate two portions to a hunger relief agency.
We've partnered with the Wide Net Project since 2015 to reduce the invasive species, Blue Catfish, in the Chesapeake Bay. In the '70s, Blue Catfish were introduced to The Chesapeake Bay as a sport fish, but they've become a serious threat to the waterway, preying on native fish species and vegetation, including Maryland Blue Crab.
Our partnership with The Wide Net Project is good for the community and the environment!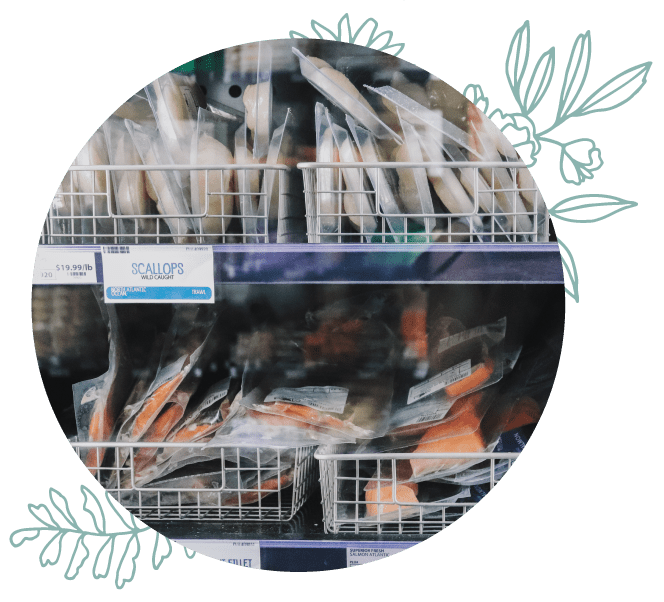 Fighting the Frozen Fish Stigma
Did you know? Frozen fish is fresher, more nutritious, and better for the environment compared to "fresh" fish found at other stores.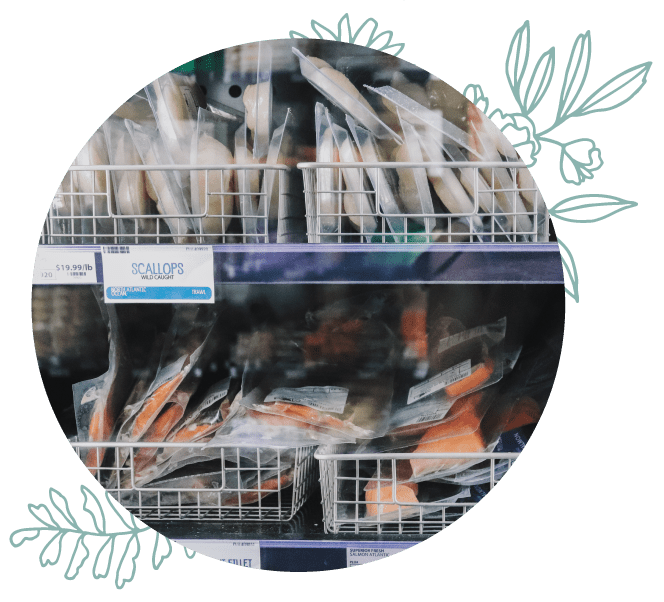 "Fresh" VS. Frozen: How it Compares
| | | |
| --- | --- | --- |
| "Fresh" | | Frozen |
| Nutritional value and quality begin to deteriorate immediately upon harvesting. | Nutrition | Our suppliers' on-site freezing methods seal in quality, flavor, and nutritional value. |
| Most "fresh" seafood is transported by aircraft- one of the highest CO2 emitters.  | CO2 Emissions | Frozen seafood is generally shipped by sea or truck, which emits significantly less CO2 than aircraft. |
| "Fresh" seafood is highly perishable; about 30% is thrown away before it has the chance to be consumed. | Food Waste | Freezing seafood significantly decreases food waste because you can choose to thaw only what you need. |
How do we choose the seafood products on our shelves?
If we carry it, you can rest assured that it has been thoroughly vetted by our seafood expert, Chris Miller.